Description
If you play anything like the amount of Rock Band that we do, you'll have considered customising your controllers.  This digital download is a correctly scaled SVG file with different layers corresponding with cuts and scores to make your own scratch plate using your favourite subtractive manufacturing method be it laser or mill.  You could 3d print one if you want, but this file is just the outline.
This will fit the Harmonix Guitar controller for the Xbox One,  part number 91161.
If you want us to cut one out for you, we have you covered there too – Just let us know what material you would like and what artwork you want on it and we'll give you a price.
Below is an example of one of our own designs.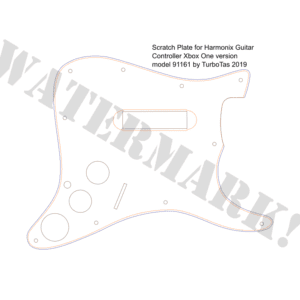 Note: this item is digital download and is not for resale.  It grants they buyer a license to make one scratch plate.  You may of course sell that scratch plate.